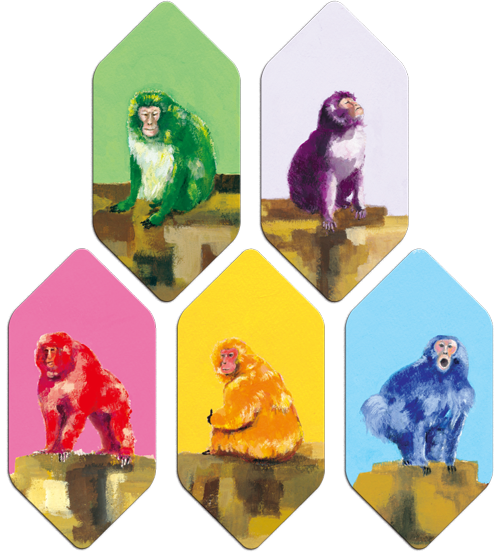 "Penguin Party" from the famous German game designer Reiner Knizia has been made into a Japanese edition with an official license. Even the artwork has been redesigned. "Simple, but deep rules"...is a pretty standard catch phrase, but no other game quite lives up to this more than this game. This masterpiece can be enjoyed by kids and adults from 2-6 players.
Simple, but deep rules.
In this game, players take turns playing cards and creating a pyramid-shaped mountain of monkeys, however, the rules are very simple. The card that is placed on top must be the same color as one of the card under it. That's it. If there is only 1 card on the bottom, you cannot place a card on top of it. The person that can play the most cards is the winner.
These are the only rules, but because of the tapering of the pyramid shape, the cards that you are able to play become less and less. You need to quickly play the color of card that you want to play. This is where the strategy comes in. You dont want the other players to prevent you from playing your cards, but you also need to think about obstructing the other players too.

Hexagonal Cards
The cards have a special hexagon shape so that it's easy to form into a pyramid and they are fun to look at.
Cute monkey illustrations
Illustrations by
>Kanako Okamoto
. She is an illustrator of many works and known for a gentle touch.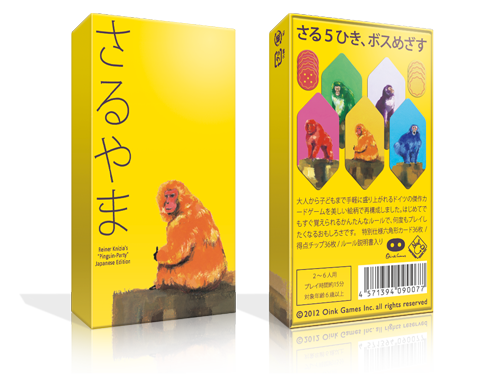 Whether it's adults playing, children playing, or a mixture of both, this is a game that we recommend no matter the time.